Cargo sent by air from any point of origin
Air freight transport is the most reliable option for perishable goods that have to reach a distant destination or in cases with a very tight delivery deadline.
True to our philosophy, Grupo Caliche offers a series of additional services to give all customers the opportunity to benefit from all the advantages of air freight, both in and out of Spain, whatever the goods and size of the load. These advantages include door-to-door service, controlled temperature storage and customs clearance.
We coordinate the air freight transport service from your warehouses to your customers, including customs procedures, goods insurance, handling, palletising and picking.
We forward perishable goods by air and take care of the additional procedures, such as health or phytosanitary inspections, temperature-taking, placing thermal blankets and gel packs in conventional and refrigerated storage.
Import and export air freight service, for free circulation or linking to a bonded warehouse. Furthermore, we take care of the formalisation of other documents.
We offer a series of complementary air freight services, such as full cargo aircrafts, break bulk, oversized cargo or project cargo, cross-trade, triangular shipment operations, etc.
Multidisciplinary service
The combination of air freight with our sea and land capacity, as well as a solid logistics network of warehouses and bonded warehouses, mean that we can offer a comprehensive service with all guarantees.
International operator of air freight transport
Grupo Caliche has a solid air freight division. We are IATA agents and we have the capacity to forward cargo by air to any destination from anywhere in the world, thus optimising time and costs.
Air freight is the most appropriate method for high value cargo or goods that need to reach their destination as quickly as possible. Therefore, it is the means that best adapts to a logistics process with high added value.
Grupo Caliche places a flexible and safe multimodal air freight service at the disposal of its customers. It keeps track of the cargo through its network of agents in a global environment that requires highly qualified staff, capable of adapting to all market demands, all kinds of goods, all origins and all destinations.
ASK FOR A NO-OBLIGATION QUOTE
We will be delighted to give you information about our service and rates, as well as advise you on any transport-related matter. Our experienced team of professional road haulage specialists will offer you the best assistance.
Your air transport
with Grupo Caliche
WHAT DO WE OFFER YOU AS AN AIR FREIGHT Transport COMPANY?
Security. Air freight is the safest method of the market. Consequently, it is the most appropriate for high value cargo.
Peace of mind. The speed of air freight is a key factor when it comes to forwarding perishable goods or those that have to be delivered as quickly as possible.
Trust. You will have a partner with the guarantee of the IATA and extensive experience in air freight services.
Traceability. At all times you will know where your goods are, thanks to a GPS tracking system.
Versatility. We have an extensive worldwide network of agents for transporting all kinds of materials and products with guarantees.
Capacity. Grupo Caliche has a complete offer of sea freight, air freight and road haulage to provide you with comprehensive solutions.
 
In Transportes Grupo Caliche we work for our customers and care for them in the same way. From the most important multinationals of very diverse sectors to SMEs that need our services or are starting their import and export projects. Our transport company's motto is «We want you to feel well looked after» and we apply it to all customer profiles.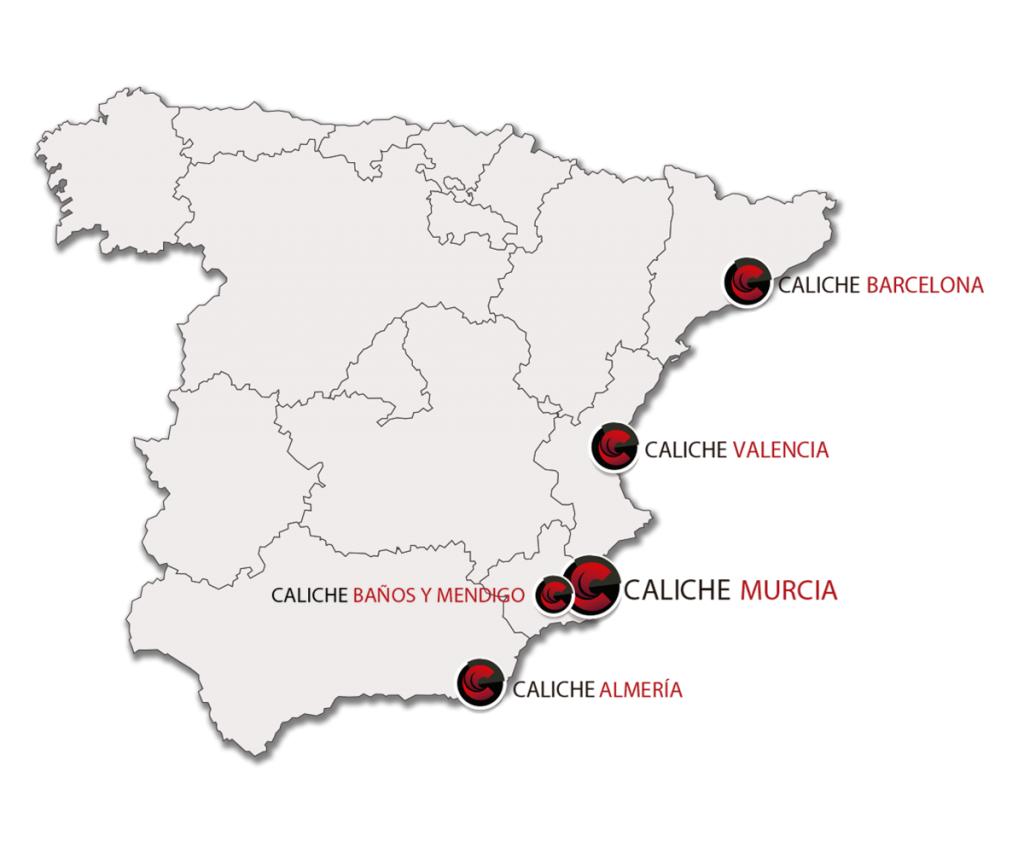 Santa Elena, 2
30730 San Javier
Murcia, Spain
+34 968 32 60 00
M – F 8am to 8pm