We go to any country in the world, wherever it is
SEA FREIGHT AND CONTAINER SHIPPING COMPANY
Sea freight is the safest, most cost-effective and ecological way to transport large items. Furthermore, in Grupo Caliche we complete our offer with a series of solutions adapted to all kinds of customers, including customs clearance for storage, FCL shipments, groupage and storage at seven temperatures.
We offer these services in and out of Spain, thanks to 360 correspondent offices and a collaboration agreement with the world's major sea freight companies, thus enabling us to take any item anywhere in the world.
International sea freight for exports, imports and cross-trade, in both DRY and REEFER containers, or special systems.
Over 50,000 m2 of warehouses located throughout the Spanish Mediterranean provide us with the best conditions to handle and safeguard goods, whether they are dry, refrigerated or frozen.
We also have our own warehouses in strategic points around the world, as well as a network of agents that guarantee our customers receive the best service.
Full container load and groupage
We have bonded warehouses for storing goods and preparing orders, so we can offer a service of excellence in container shipping.
Our company is a leading name in the sea and air freight sector. We develop the whole process, including transport with the most appropriate means, dry and refrigerated storage, customs clearance and the fleet.
Efficient Logistics chain
From the moment an item leaves its origin until it reaches its final destination, we apply the required structures and tools to ensure the success of the logistics chain.
Multidisciplinary service
The combination of sea freight with our air freight and road haulage capacity, coupled with a solid logistics network of normal and bonded warehouses, means that we are able to offer an end-to-end service with all guarantees.
Each item is unique and has specific requirements. In Grupo Caliche we search for the best logistics solution to offer an effective and top-quality service for each item.
WE ARE READY FOR ANY CHALLENGE
ASK FOR A NO-OBLIGATION QUOTE
We will be delighted to give you information about our service and rates, as well as advise you on any transport-related matter. Our experienced team of professional road haulage specialists will offer you the best assistance.
Tu transporte marítimo
con Grupo Caliche
WHAT DO WE OFFER YOU AS A SEA FREIGHT COMPANY?
Security. With maritime transport, it is possible to accurately establish that the goods will safely reach the port on time.
Peace of mind. Container shipping is the safest way to keep all goods in perfect condition.
Trust. You will have one of the most professional sea freight partners in the sector.
Traceability. At all times you will know where your goods are, thanks to a GPS tracking system.
Versatility. We have an extensive logistics network and strategic alliances for transporting containers of all kinds of materials and products.
Capacity. Grupo Caliche has a complete offer of sea freight, air freight and road haulage to provide you with comprehensive solutions.
Tu mercancía está en las mejores manos
In Transportes Grupo Caliche we work for our customers and care for them in the same way. From the most important multinationals of very diverse sectors to SMEs that need our services or are starting their import and export projects. Our transport company's motto is «We want you to feel well looked after» and we apply it to all customer profiles.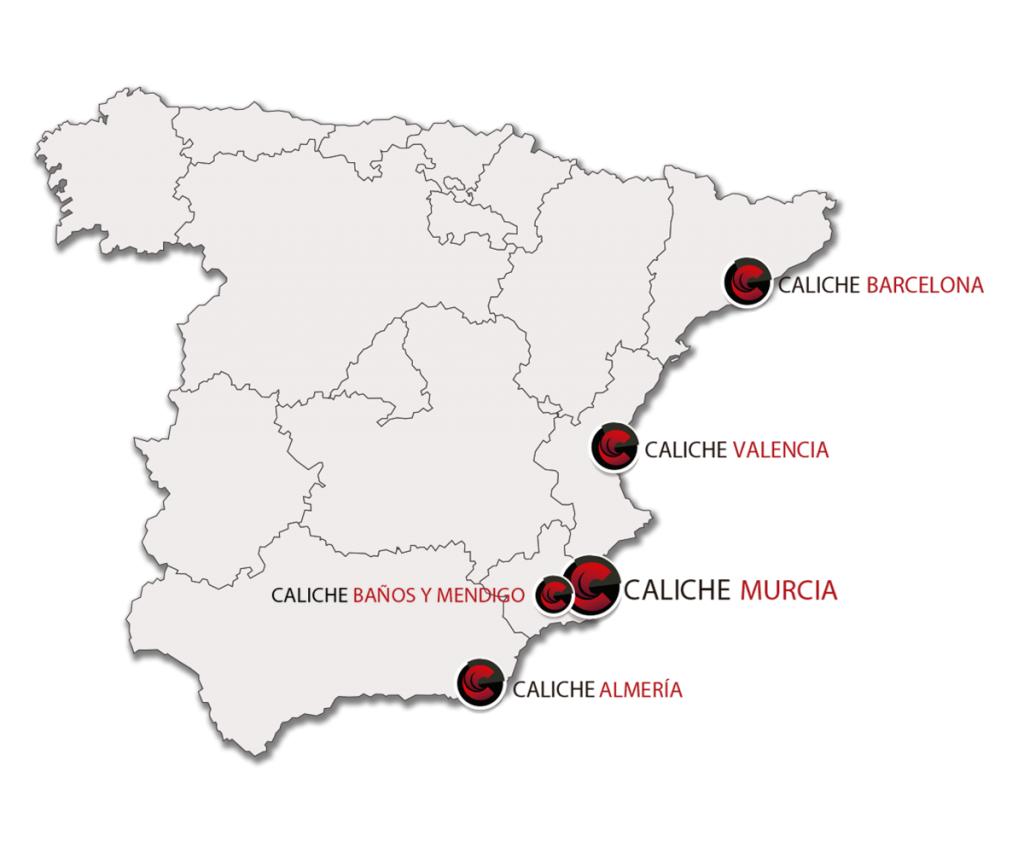 Santa Elena, 2
30730 San Javier, Murcia
Spain
+34 968 32 60 00
M – F 8:00am to 8:00pm